The pandemic shut down the Round Top shows of 2020—but the show is back now! The 2022 Fall show runs from Thursday October 13th through Sunday October 30th, but before you head out to Round Top confirm the dates for the year here: https://antiqueweekend.com & https://www.exploreroundtop.com
What is the show?
The Round Top Antiques Show is a famed Texas market that resembles a yard sale sprawled out across miles in converted barns and open fields. Hundreds of vendors bring their collections to the area of Round Top for the show twice a year: in the fall and in the spring. To give you a glimpse of what you can see at the show, I've found gorgeous European-country furniture, timeless vintage Americana accessories, and reworked industrial furniture and lighting, as well as pieces by local makers that define the intersection of styles which you simply won't see elsewhere. Everything you find at the fair is unique which makes it my favorite market to shop for pieces that are individual for any project I'm working on, whether it be residential or commercial. The show is centered around the small town of Round Top, but it doesn't stop there—the surrounding towns of Burton, Carmine, and Warrenton are also home to vendors and more permanent showrooms that are part of the bi-annual show.
My favorite section of the show is Warrenton which is located a little south of downtown Round Top. I usually head to Round Top earlier in the week before the show starts so I can see vendors setting up their booths and showrooms to start shopping early and grab one-of-a-kind pieces for my clients before they're gone!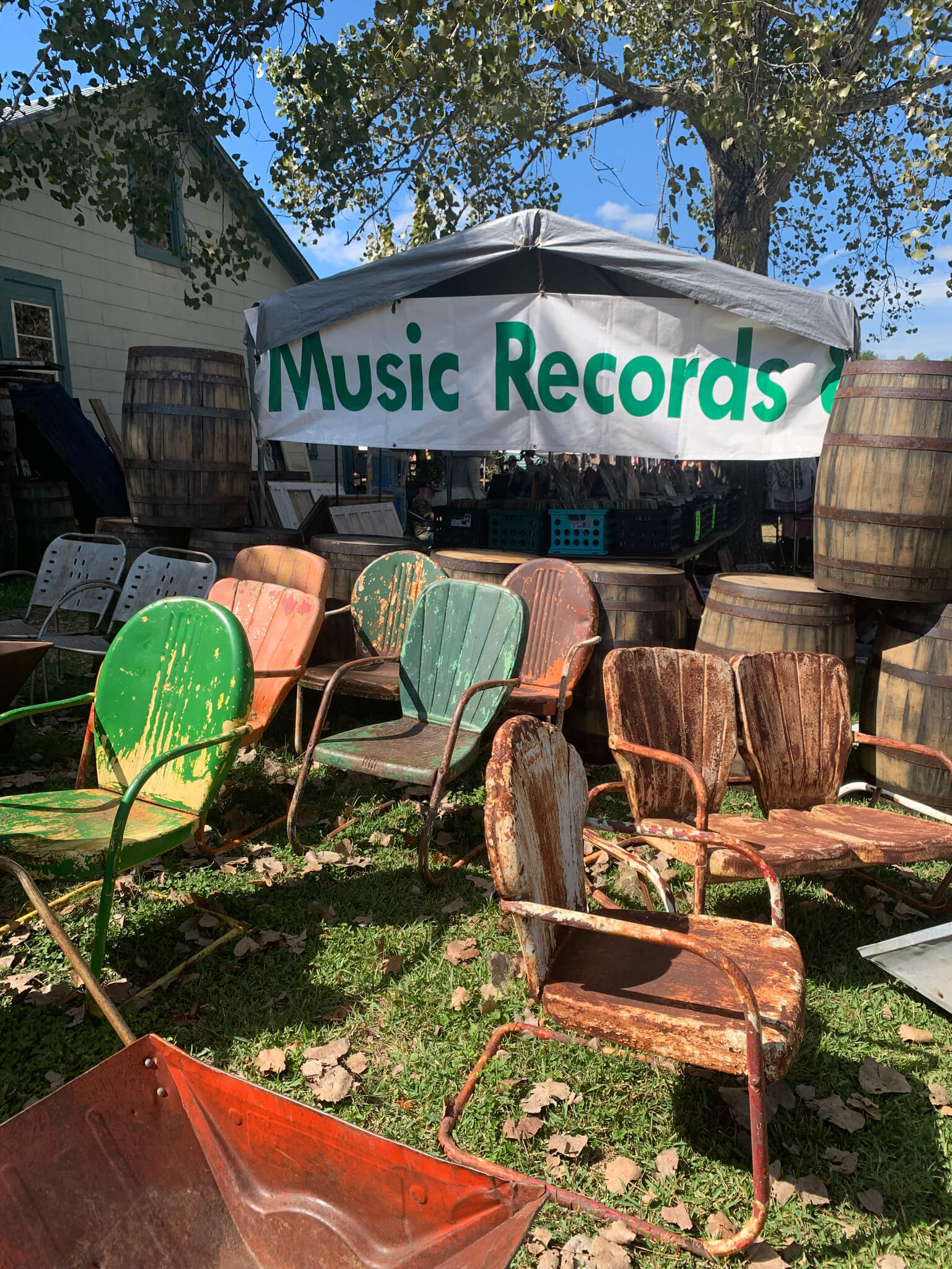 Here are my tips for navigating the Round Top show, with emphasis on what to see in Warrenton!
First off, I always recommend coming to Round Top with a idea of the type of pieces you're shopping for, as well as the number of pieces (and dimensions of your space to make sure what you find will fit!). If you're looking for a specific style for your pieces and don't have a lot of time to spend pouring over booths, then you can cater your itinerary to vendors that offer exactly what you're in the market for; here are my favorite vendors in Round Top and Warrenton:
Bader Ranch: Located in downtown Round Top, the Bader Ranch showroom has a beautiful collection of European antiques and I love to stop in even if I'm not looking for specific pieces!
Zapp Hall: One of my favorite showrooms in Warrenton is Zapp Hall, and my favorite vendor in the hall is J Tedder Design. J Tedder produces a great collection of reclaimed art and I always stop by there when I have a client in need of art pieces!
The Compound: Another amazing showroom located between Warrenton and downtown Round Top where you can vintage designer furniture from the 1950s and 60s—the likes of George Nelson, Gene Provi, Gio Ponti, Harry Bertoia, and Eames.
My favorite higher-end shopping in Round Top:
For higher-end pieces I like to venture a little north of downtown Round Top to Market Hill. The Paul Michael Company is located in Market Hill and it's one of my favorite places to find great quality furniture pieces for clients, plus the sales staff is so helpful! You can also find vintage pieces and a lot of cool artwork in the shops of Market Hill. This venue is a bigger splurge in terms of pricing but the collections on display are expertly curated which makes it easier to find the piece of your dreams if you're short on time in Round Top.
If you have more time to browse the fields of Round Top and Warrenton here's a list of my favorite booths and larger warehouses in the area:
KB Designs: Found in an old barn, KB Designs is the place to go for all things industrial including fabulous light fixtures and cool chairs and tables made from rustic materials. The owner and maker Ben Bizzell displays his collection so well and I have found amazing pieces for clients here. I found perfect wood block stools for the patio of a home in Austin!
Excess I&II: Another great venue if you're looking for industrial-style pieces. I have spent hours in this field just trying to see all they have for sale.
Bar W Field Antiques: Offers an eclectic mix of furniture and smaller items presented by various dealers.
What should you bring to the Round Top show?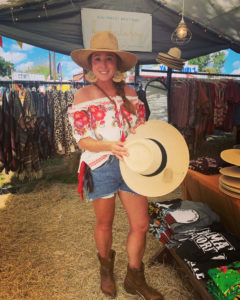 Go COMFY!
Wear tennis shoes, you won't get very far in cowboy boots, but if you want to take pictures while there bring a pair of boots along!
Bring a hat, or stop by Sheila Fay's booth for a distinct western hat that will set you apart in Round Top!
Pack disinfecting wipes, some of the pieces you'll find will be old and dusty but that's okay because you brought wipes!
Have measurements for your spaces and bring a tape measure for the pieces that catch your eye
Bring cash in case a vendor doesn't accept other forms of payment, plus phone service isn't guaranteed in the area (it's a small town!) so Apple Pay or card issues may put a stop to your shopping if you don't bring some cash along
Outside of the show: Where to stay, where to eat, and where to get a drink in Round Top!
My favorite places to stay
When it comes to staying in Round Top, you must book early!!! Sometimes this making a reservation a year in advance so plan accordingly if you can, but I included some other options for last-minute travelers:
When I come into town for the show I usually stay with friends in the area but the last time I decided to check out the cottages at The Vintage Round Top (The Cozy Cottages). I saw this beautiful sunset from the cottage I stayed in called the Eisley!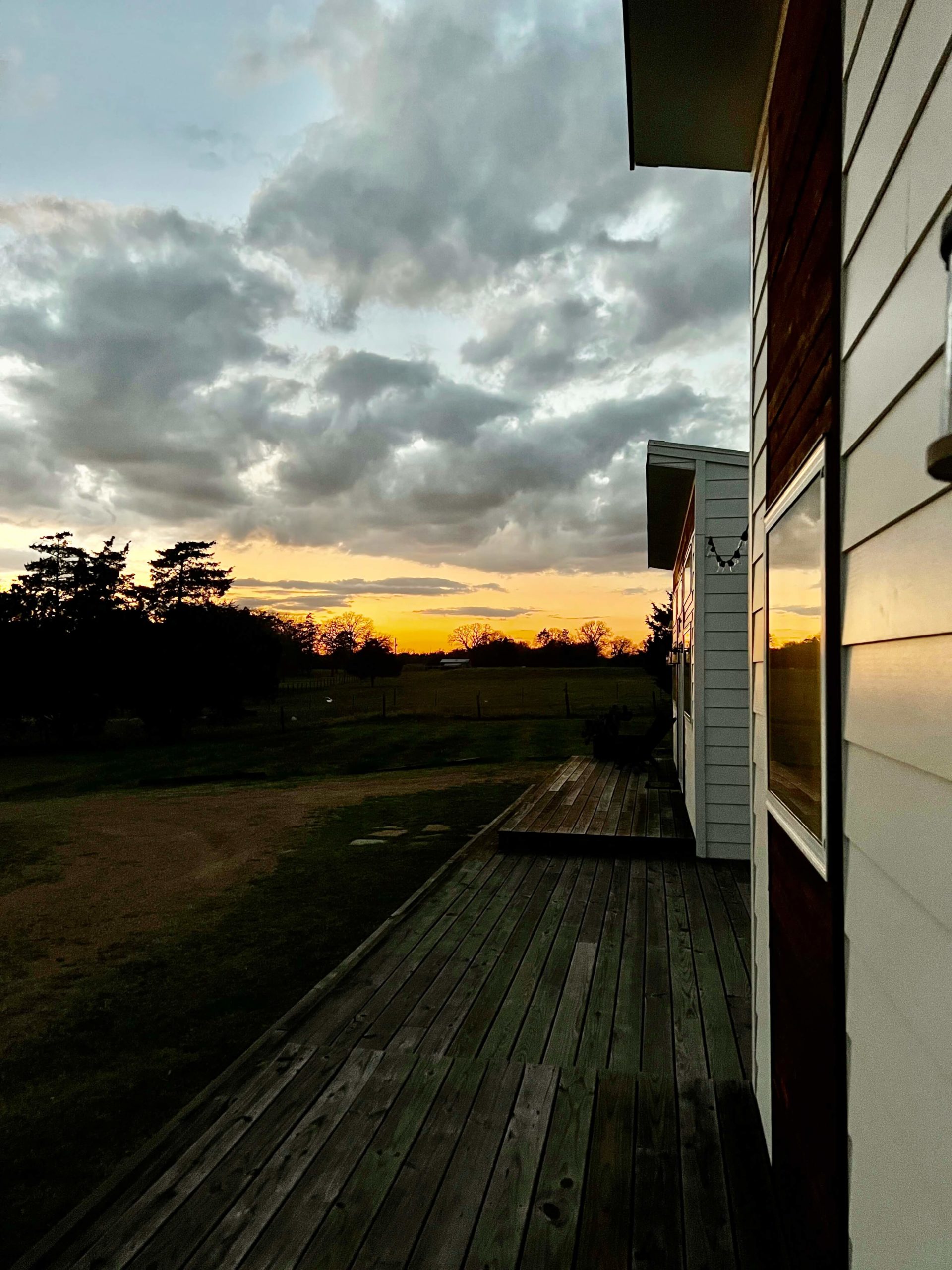 Another great place to stay in the Wander Inn which is decorated by the owners of Junk Gypsy, a shop in Round Top. The inn boasts eclectic country rooms and homemade biscuits everyday!
If you're coming from Austin like me, you'll drive about an hour and a half east (a little southeast to be more specific) to Round Top, passing through the towns of Elgin and Giddings which have accommodations if you're not able to book a place in Round Top in advance.
You can also bring your camper or RV and find a spot to park during the show (make sure you find an area you're actually allowed to park in!)
My favorite places to eat
My tip for meals is if you haven't made reservations weeks in advance, don't wait in line at the restaurants in downtown Round Top, instead go to the pop up food vendors located throughout the fairgrounds for meals during the day and into the evening. The food stands serve delicious meals and small bites without the long wait!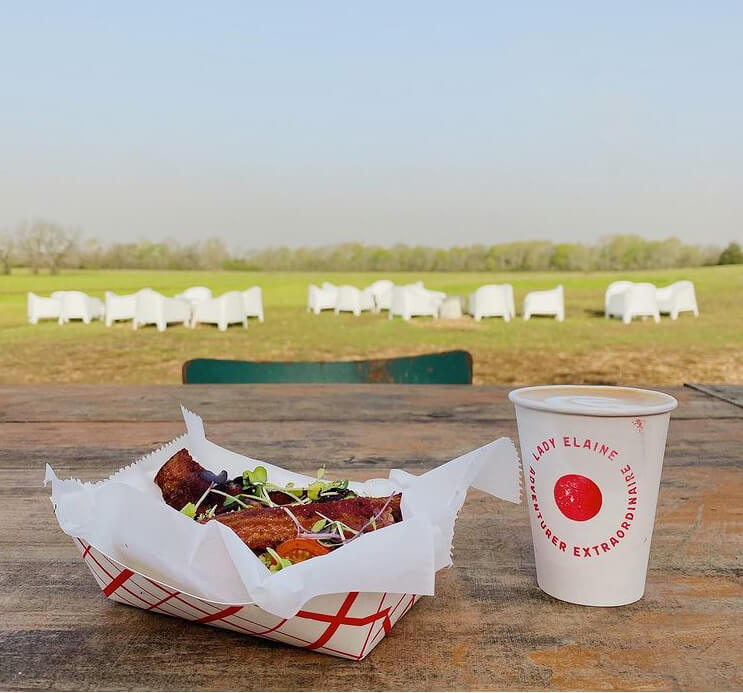 I stop for coffee in the morning at the rotating trailer stationed at Bader Ranch, and while you're there make a reservation for dinner at Y Comida, the menu at Bader Ranch changes each year but they always have great plates!

In 2021 Comal ATX Fajita House was at Bader Ranch serving the best Texas BBQ tacos!

Zapp Hall has one of the best restaurants in town, serving lunch and dinner at the cafe in the venue which is a great option if you're already shopping there like me!
My favorite places to grab a drink
The Dugout has my favorite margaritas in Round Top!
Zapp Hall serves cold beers and margaritas starting in the early afternoon
Bader Ranch usually has a trailer serving drinks throughout the day so check it out to see what they're serving!
Music at night!
In the evenings I meet up with friends to enjoy live music at various venues across Round Top! It's my favorite part of the nights during the antique show and a nice end to a long day of shopping. after my friend Sheila Fay has closed her booth we walk to The Dugout for dinner and music, or pop by the Junk Gypsy store after fours to hear a band.
History of Round Top and the show
The Round Top Antiques Show has been running for over 50 years and has become home to a growing list of wonderfully creative vendors who bring their spectacular collections to the area every fall. The town itself just celebrated its 150th birthday and its historic charm makes it the perfect backdrop for the vibrant antique show!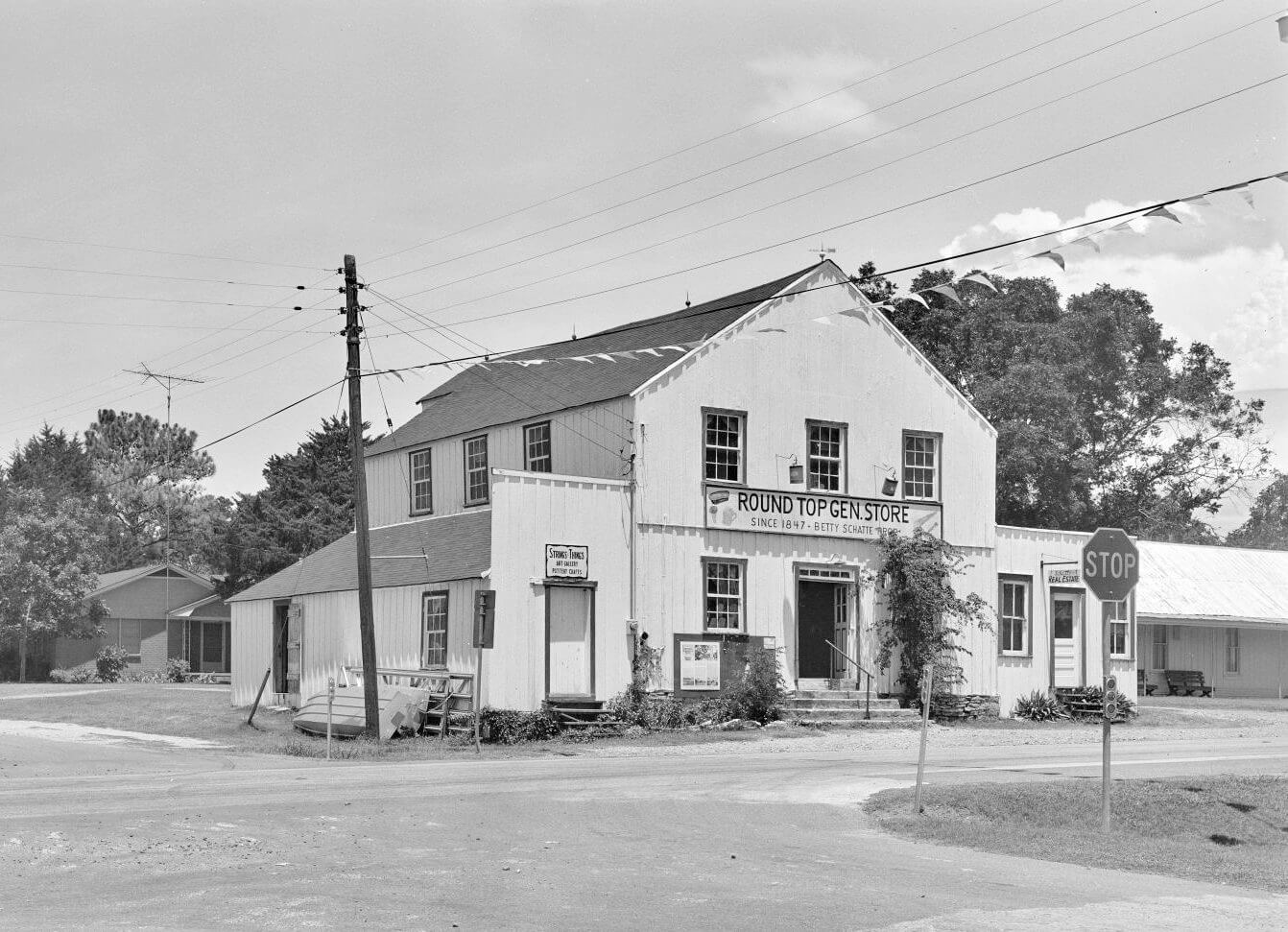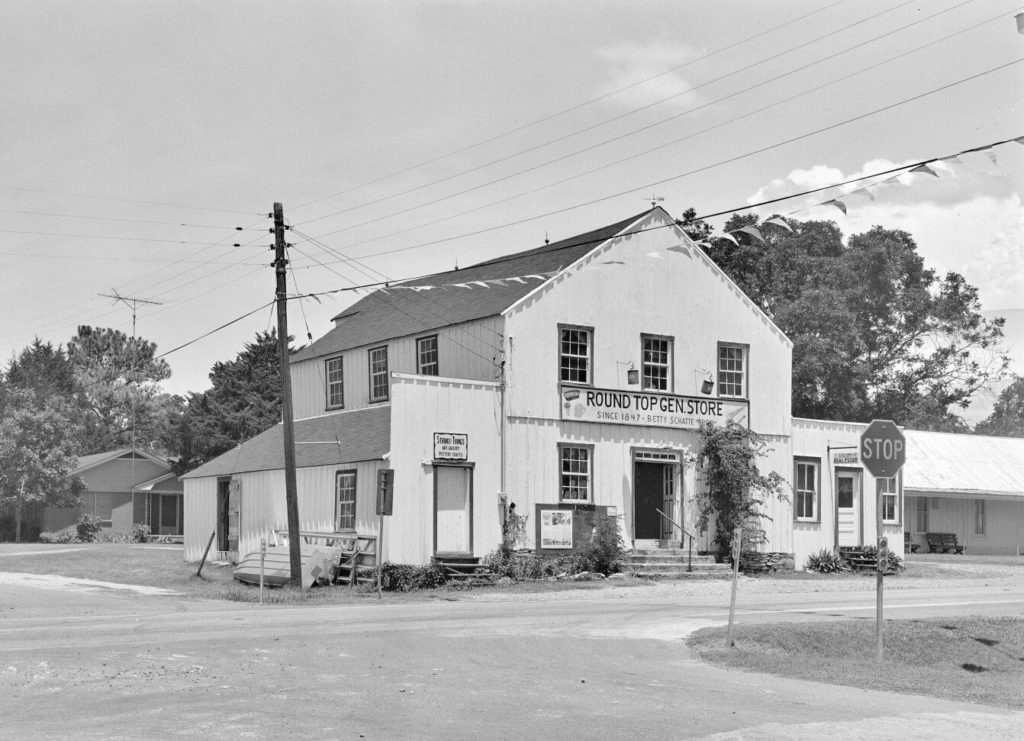 I bring my expertise of the Round Top show to all the design projects I work on and I would love to shop the show for the perfect pieces for your space! If you have an upcoming renovation or just need a refresh of your home, rental, or commercial space reach out to [email protected] for a consultation with me!