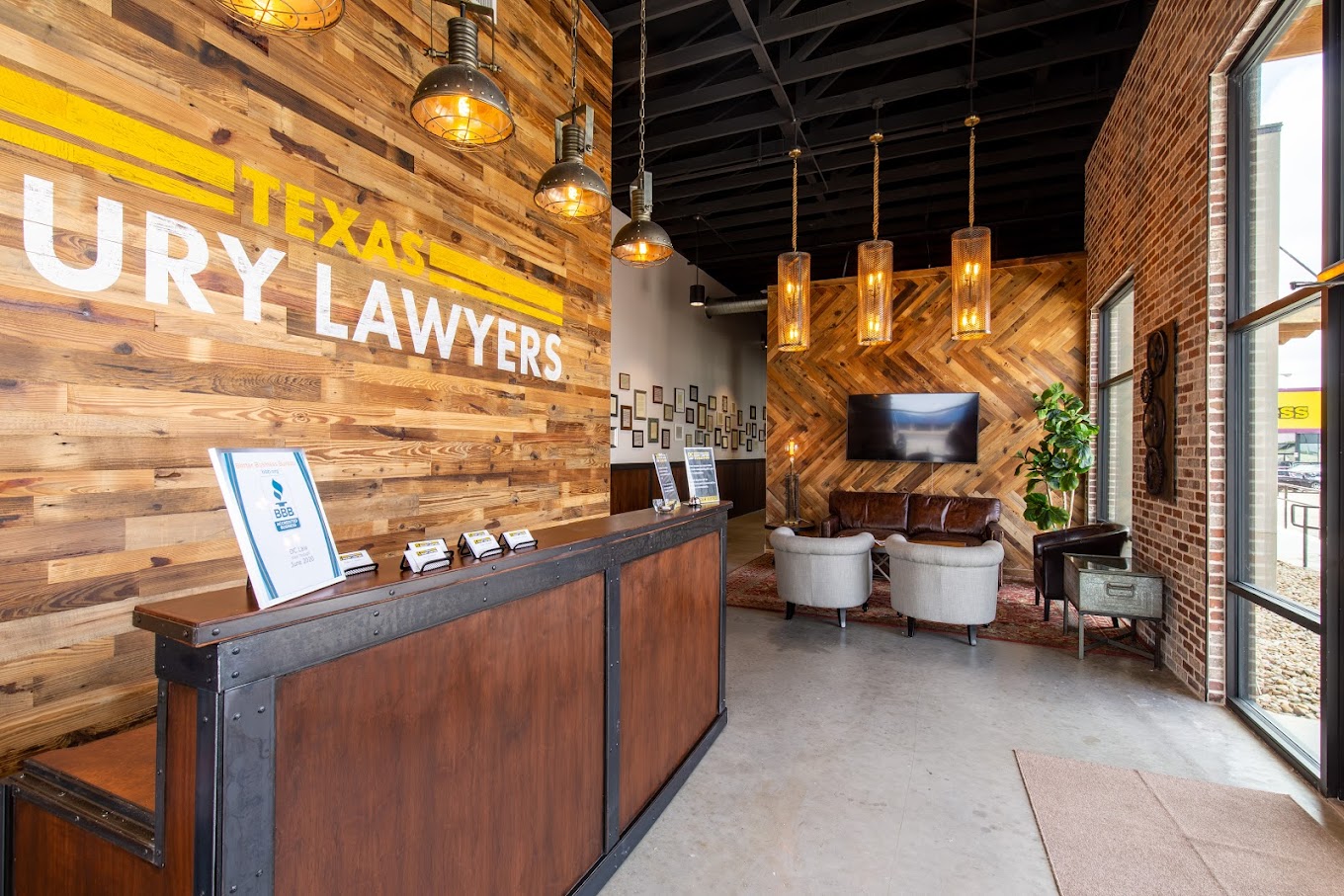 In 2018 I was hired to create a welcoming, adaptable and professional space for the lawyers at DC Law. The spot at 1012 Anderson Lane in North Austin was a gutted old restaurant which gave us a clean slate and allowed me to give my client their dream office. I met with Dan Christensen, the founder of DC Law, to talk through his hopes for the new office and what his team would require from this space. Together we envisioned a cozy reception area where the law firm's clients could check in for consultations and appointments, an open room where desks were organized so team members could effectively collaborate, and a conference room where the firm could have impactful conversations about their business. We also wanted to include a break area and kitchen where associates could take time in their busy days to eat together and foster community. I was excited about the vintage industrial vibe Dan Christensen wanted for the office. In order to accomplish the goals my client and I devised, I reached out to some of my favorite Austin-based custom craftsmen. Through this project we defined the brand visuals and environments of the business which helps to instill the values that are shared by the DC Law firm.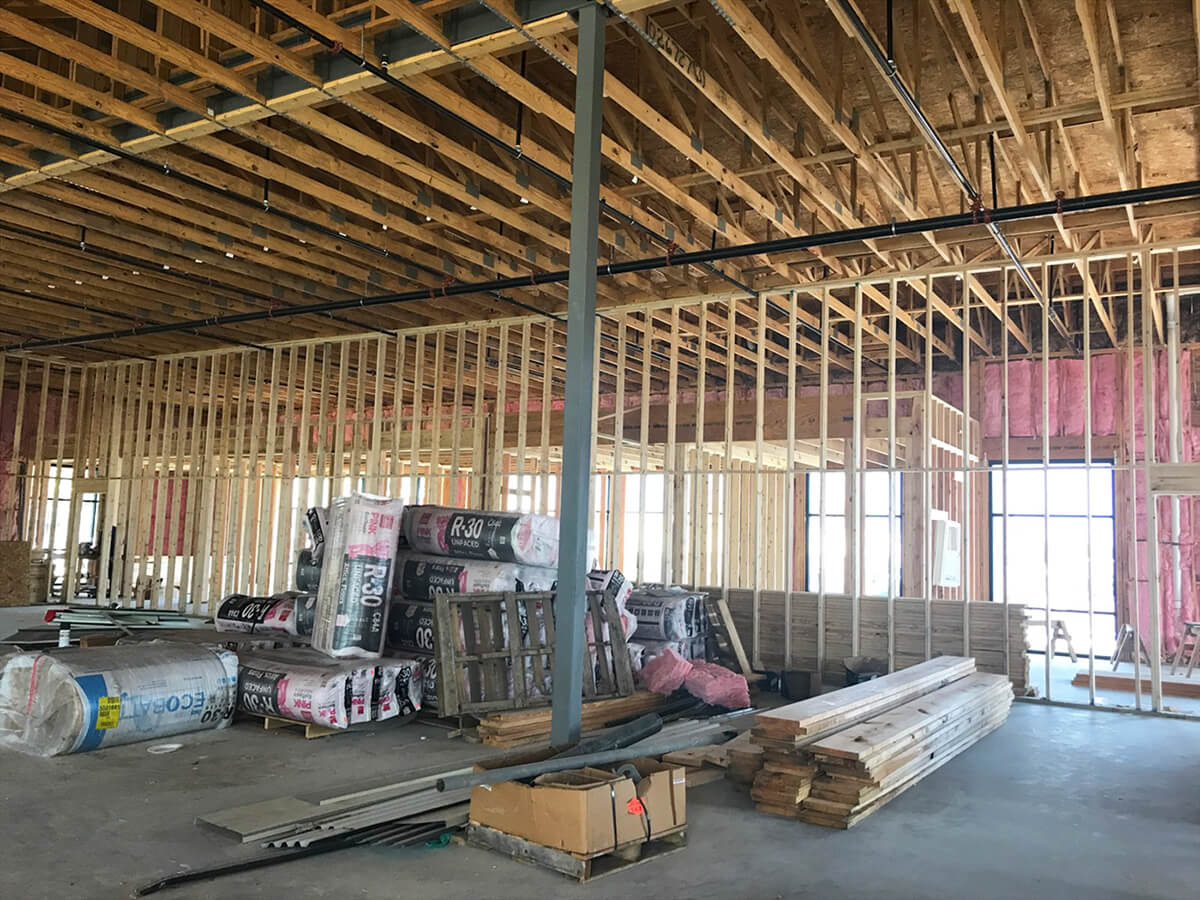 Architect Derek Mizner and contractor Tom Howells transformed this 10,000 square foot building into a modern industrial office.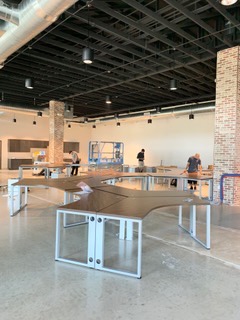 Dan Christensen wanted a modern open-office area that allowed for collaborative and cohesive work. I consulted Robert Cotton at Logical Office Furniture in Austin. Robert Cotton and I worked together to design the desk pieces as well as lay out the entire space to be an effortlessly flexible environment. The caterpillar shaped desks that we designed with Robert Cotton gave us an alternative to cubicles that are barriers to collaborative work.
The existing room that became the open-office area was lacking in terms of windows which gave me an opportunity to work with my favorite Austin-based artist Zita Raymond. Zita has done stenciling and decorative finishes for some of my residential projects and I was so happy to be able to include her in this commercial design. We decided to create our own picturesque Central Texas vista with Sherwin-Williams paints to play out in the workspace.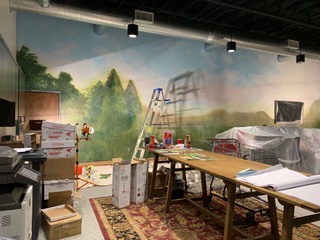 I thought this expansive wall would also be a perfect place to feature some of the company's values and mantras. Dan Christensen wrote a list of phrases and words he wanted to have represented in the inspiration mural.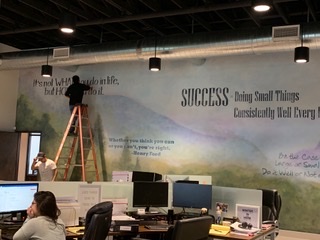 I designed custom pieces to fit the vintage industrial vibe for the reception and conference areas of DC Law. Craftsman Tony Romano brought his expertise to crafting the pieces I designed for the reception and conferences areas of DC Law. We worked side-by-side to bring the conference table together; I found these unique iron bases while Tony handcrafted a solid wood top.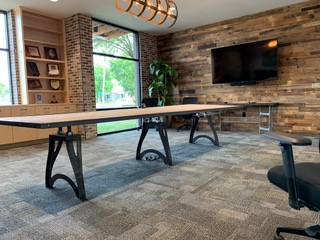 I decided to install natural wood planks on a few focal walls to be the backdrop of the office's entranceway and reception area. When I was watching the installation of these walls I was inspired to change the orientation of the planks on one wall to a herringbone pattern. I still love this design decision for the space!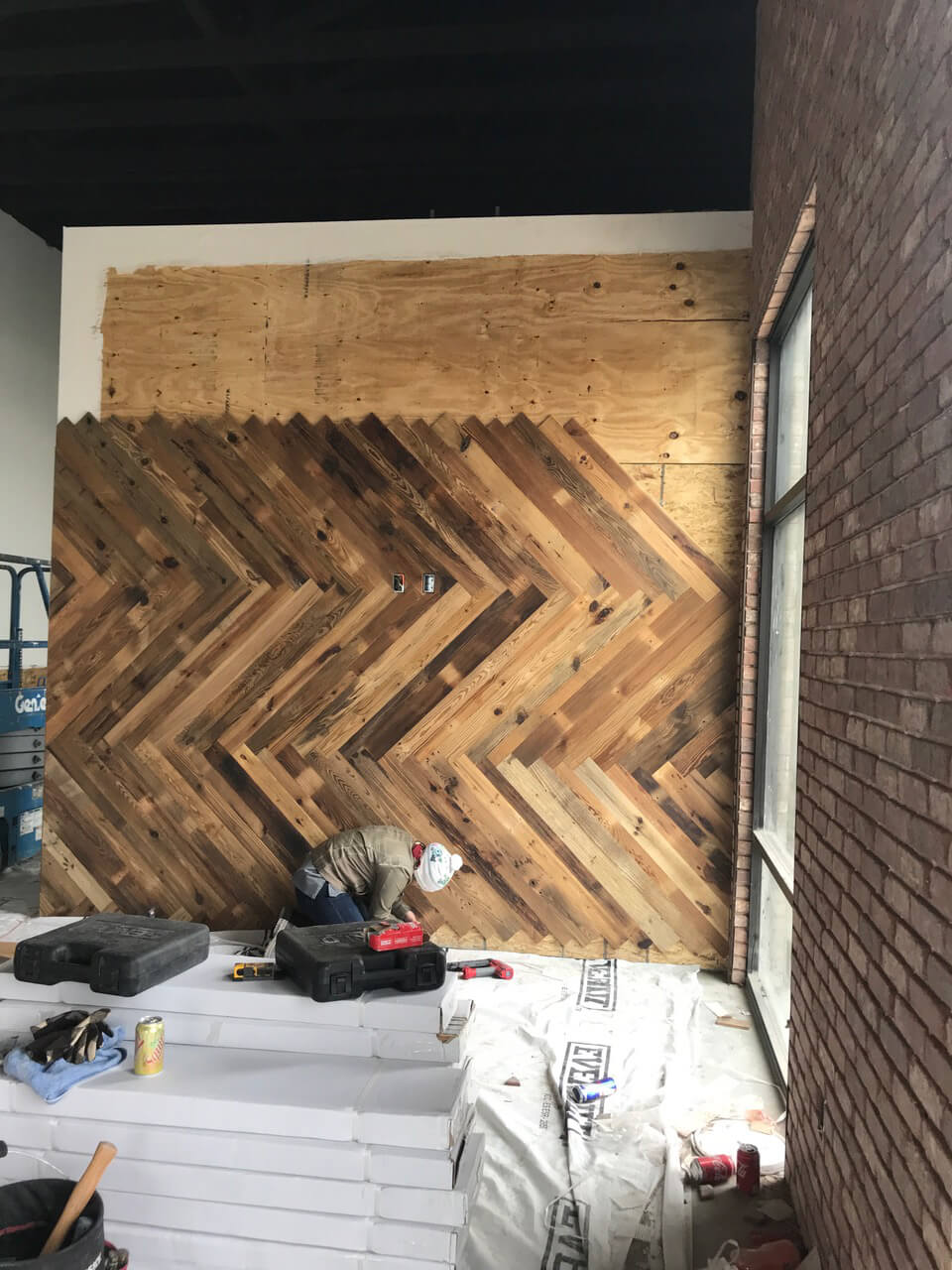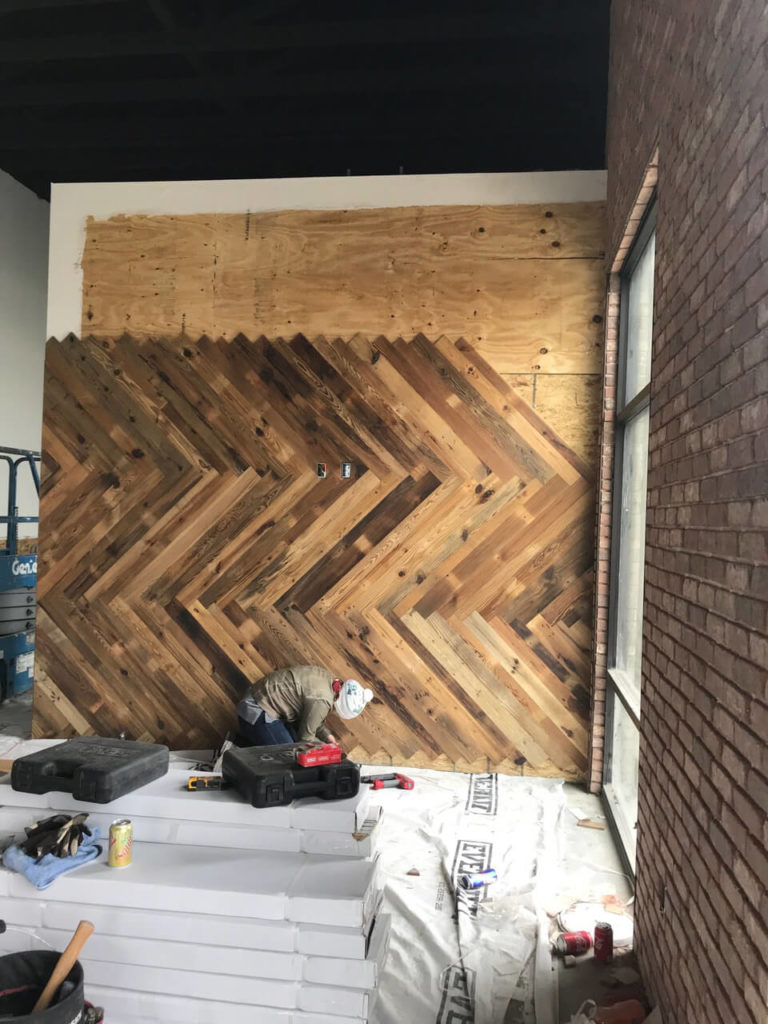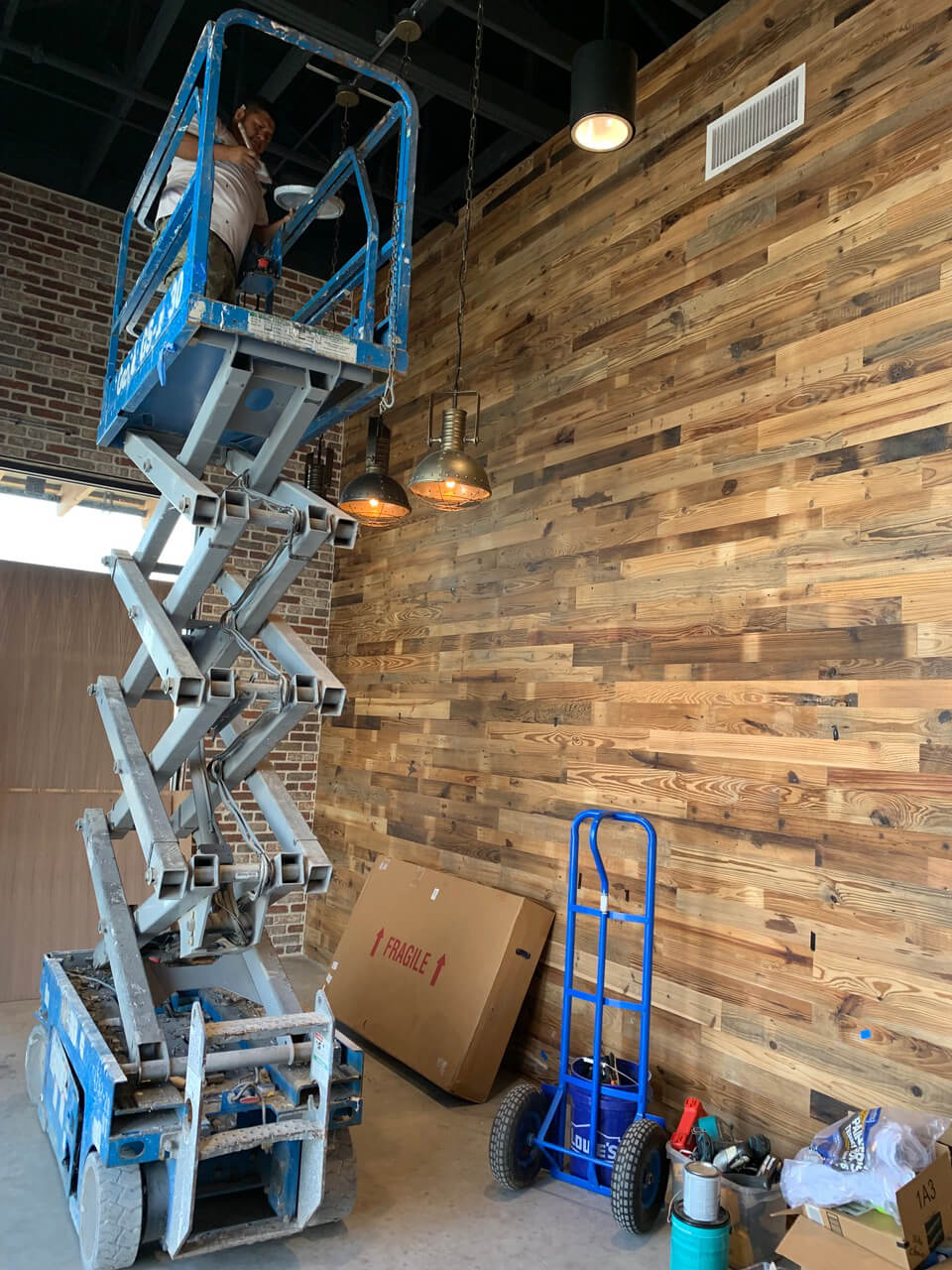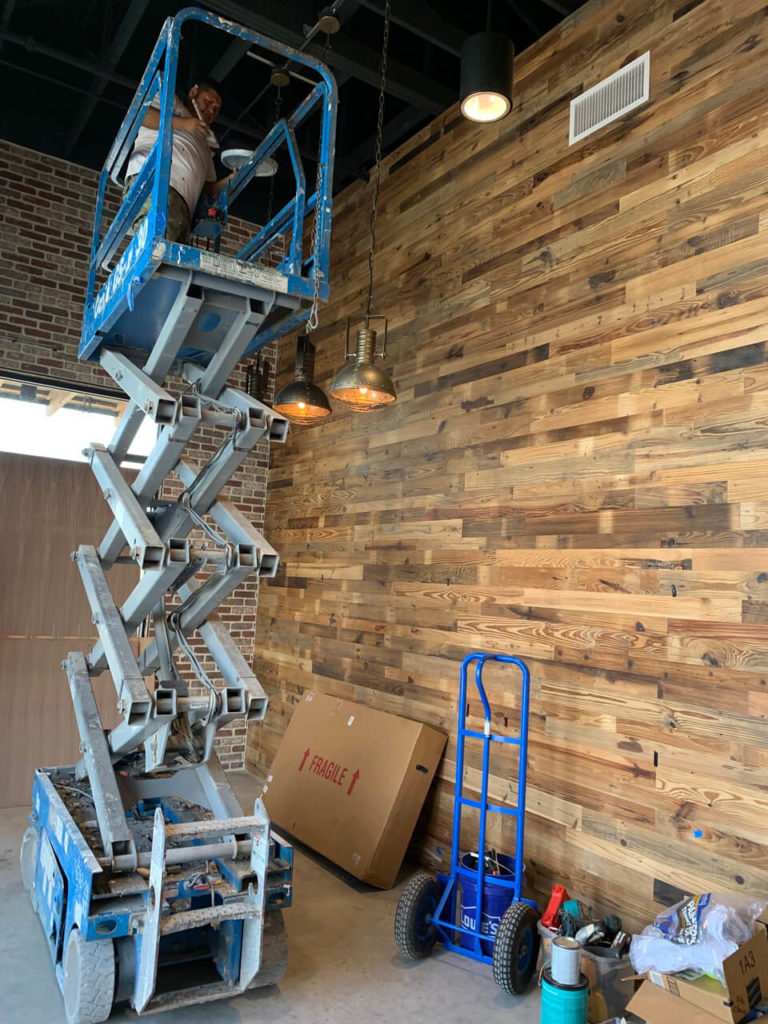 I finished the office off with light fixtures I found at the Round Top Fall Antique Show and furniture from Four Hands.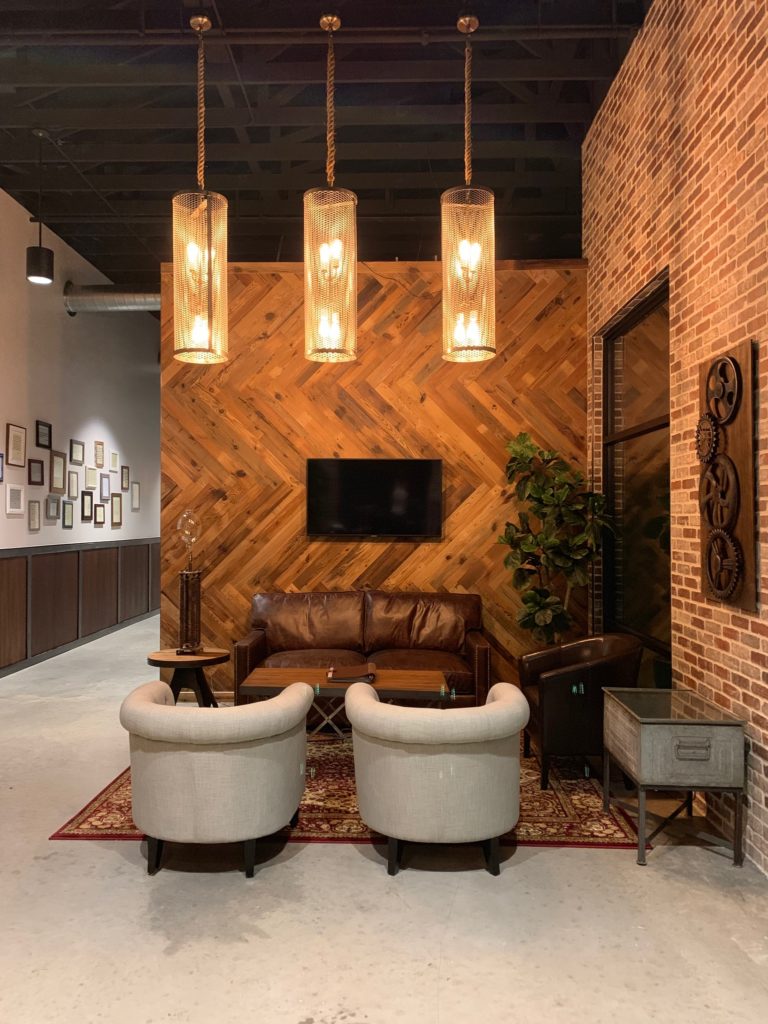 Are you interested in renovating your commercial space or starting in a new space? Reach out to [email protected] for a consultation!